Classes offered at Equa Do
A variety of martial arts classes are offered at Equa Do, depending on what you'd like to accomplish. Read below for descriptions, and how to "try before you buy" at the bottom.
Classes are through Gurnee Park District or directly through Equa Do.
---
Tae Kwon Do

Tae Kwon Do provides much more than basic physical fitness. The art of mind-body control and self defense build confidence and self-esteem. Discipline and respect are stressed and are expected to be demonstrated inside and outside of the training hall. Instructors are certified through the Independent T.K.D. Association.
Little Dragons: (5-7 yrs.) These classes are designed especially for our youngest students. Basic Tae Kwon do and self-defense concepts for kids will be taught through games and age-appropriate practical exercises. The skills children learn will give them confidence
Youth (8 -15 yrs.): Participants learn basic Tae Kwon Do and self-defense skills. The concepts of respect, responsibility, sportsmanship and citizenship are also emphasized. Those who desire may participate in local and national tournaments.
Parent/Child (5 yrs. & up): Parents and their children train together and learn confidence, agility, coordination and balance while gaining skills in traditional Tae Kwon Do and self-defense.
Beginner (Novice – Yellow Belt): Age 5 yrs. & up: Basic technique and form is emphasized. Partner drills are used to introduce the application of technique.
Intermediate (Orange – Purple Belt): Emphasis is on form and focus. Control is taught through the introduction of sparring.

Advanced (Blue Belts & up): This faster paced class emphasizes control, form, muscle memory and sparring skills.
---
Combat Hapkido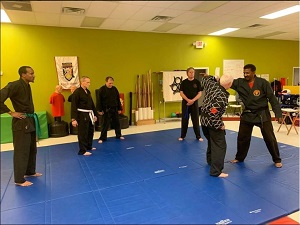 This Korean martial art is used primarily for self-defense. It was developed by the founder of the International Combat Hapkido Federation (ICHF) and is also known as "the Science of Self-Defense." This form of Hapkido emphasizes redirecting your opponent's energy and aggression and using it against him or her with minimal force on your part. This class, which is suitable for both men and women, includes joint lock and pressure point training, as well as disarming techniques. Instructors are certified by the ICHF.
---
Women's Self Defense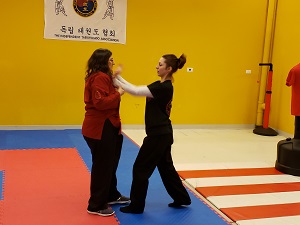 This women only class is designed especially for women and taught by female instructors led by 3rd Degree Black Belt Julie Bell. This 4 class course covers the basics of prevention such as being aware of your surroundings, being aware of when people move into your personal space, and moves on to self defense in particular situations such as at a bar, when being grabbed, and how to defend yourself even if thrown to the ground. Attention is also given to tools you can carry in your purse for self defense such as a munio.
---
Sticks (Escrima) and Bo Staff

In this class, we will begin teaching the basics for using sticks as extensions of your hands. We introduce the short stick known as Escrima and focus on its use as a Philippine martial art in combination with Tae Kwon Do skills. This class will teach hand-eye coordination and timing in a fun and exciting way. Skill drills are used to enhance coordination and movement for self-defense. Self-defense is taught emphasizing the use of readily available items. Instructors are certified through the ICHF.
---
Tai Chi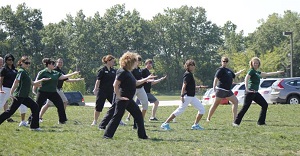 With its slow, smooth, gentle motions Tai Chi has become a favored form of exercise enjoyed the world over by people of all ages. The measured movements are intentional and among other health benefits promote balance and muscle tone. "Although you aren't working with weights or resistance bands, the unsupported arm exercise involved in tai chi strengthens your upper body," says internist Dr. Gloria Yeh, an assistant professor at Harvard Medical School. "Tai chi strengthens both the lower and upper extremities and also the core muscles of the back and abdomen."1 The style practiced at Equa do is Synergy Tai Chi Qigong and is a style that can be performed from a standing as well as a seated position. The style is based on the Yang Short or 24 forms exercise which is a standard of the industry that almost all styles and schools use.
Does Tai Chi really have any benefits as a martial art?
The short answer is yes. Though the movements are slow, they are meant to be precise and well coordinated. Once you can perform them properly moving slowly, it helps precision and coordination when moving quickly. And the position themselves have martial applications – which you may choose to explore or not at your option.
---
Interested in trying Equa Do?
Come try us out and see what you think… stop in during any beginner class (does not have to be first class of the session), find any instructor or black belt, and let them know you'd like to try it out for a few weeks. Check the class schedule page for details on class times. Wear workout clothes, bring a good attitude, and be ready for some fun and a good workout. Email or use the Contact Us form with any questions.
Ready to Sign up?
Go to our class signup page.